Learn the basics of Form Builder.
Creating and editing forms is easy in Form Builder. Here is an overview of the basics of Form Builder.
Creating, Editing, & Duplicating Forms
To create a new form, tap the green New Form button

To edit or duplicate a form just tap their respective buttons from the list of forms. For example, tapping Duplicate in the image below would create a copy of the End of Shift Inspection form.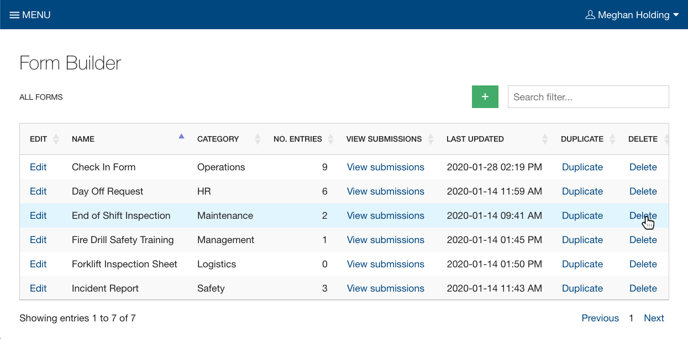 See this article to learn about deleting forms.
Form Settings
Control the settings of your form like the form category and workflow in Form Settings. Here are all the settings you can control in Form Settings:
▪️ Status
A form that has the Published status will be available in the Forms page of the app for your users to submit. If you don't want your users to see a form yet, just set the status to Draft.
▪️ Form Category
Choose a category for your form so it is easy for your users to find it. To lean more, see this page on Form Categories.
▪️ Workflow
Choose what workflow you would like the form to have. To learn more about these options, see this page about form workflows.

▪️ Email Recipients
Any emails you add to this field will receive an email with a PDF copy of the submission attached every time the form is submitted.
Adding, moving, and deleting fields in your forms
To add a field to your form, just tap the field from the list of fields and it will be added to your form. You can also drag and drop the fields to where you want them in the form.
Add fields to the top of your form by selecting a field from the Preview, and tapping your desired field. The new field will be added below the selected field.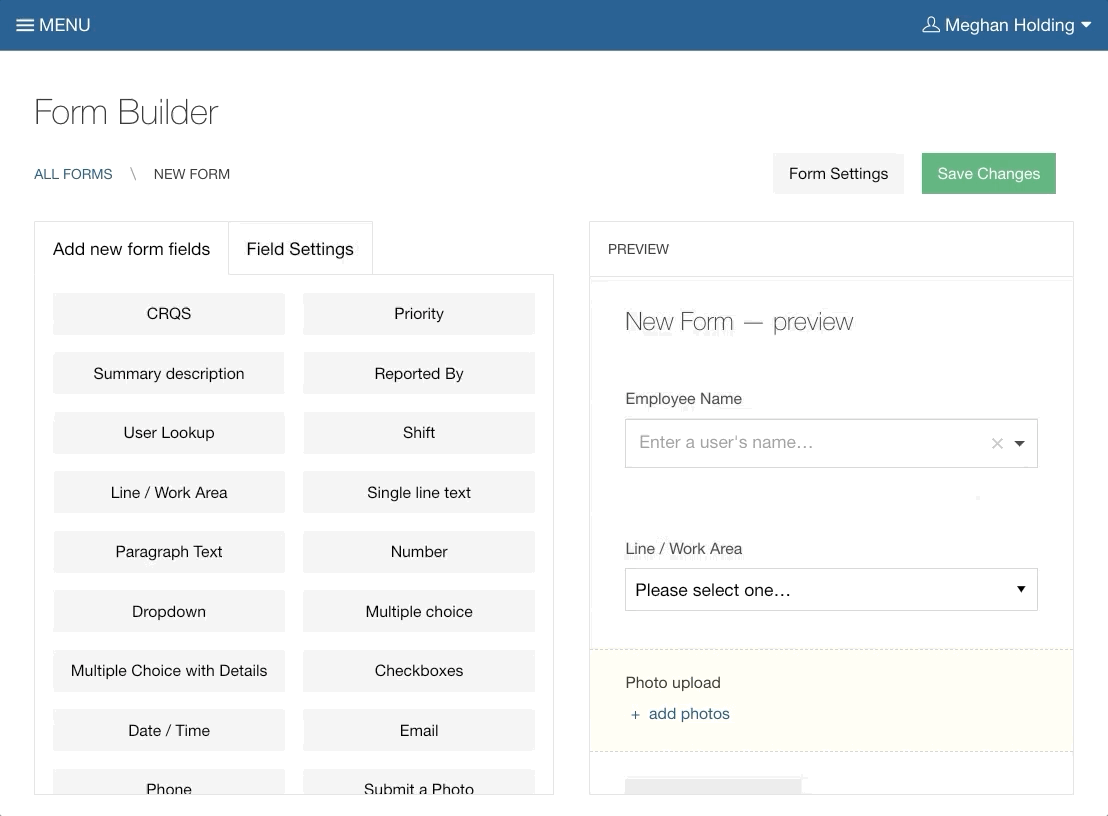 Delete fields from your form by tapping the Delete this Field button in Field Settings

Field Settings
Tap on any field to edit the field settings. From here you can change the label of the field, make the field required, among other things.