Format date fields and convert them to your time zone easily in Power BI
The dates in your form submissions are stored in the Weever database as UTC so you can easily convert them to the time zone that you need. This is the case for the date the form was submitted, the date the ticket data was updated, the date the submission was updated, as well as any date fields in your forms. Learn which columns in Power BI display this information here.
Converting date fields to your timezone is easy. Just follow these simple steps:
Step 1
In Power BI desktop, tap Transform Data.
Step 2
Select the date column you want to convert to your time zone.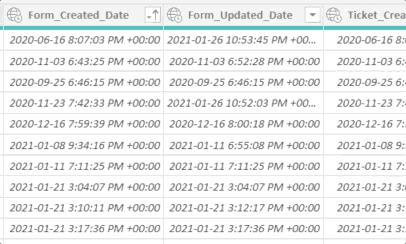 Step 3
Tap Transform in the top ribbon, then change the data type to Date/time.
And that's it!
Now your date will be formatted as Date/Time and convert to your time zone using the settings on your computer.