Set up automatic file downloads in your Safari, Chrome or Edge browser in Weever.
Instead of having your browser open downloaded Weever files, you can now have them automatically show up in your device downloads and open in a local application.
For these examples we will download a CSV file from the In Progress page.
The methods can be applied to any type of downloadable file from Weever.
Sections:
---
Safari (iPad and iPhone)
Once the 'Download All'

button is tapped and the Success message appears, you will be prompted by an on screen message to either Open or Download the file.
Select 'Download' and the file will be downloaded to the device's download folder. To view the file select the download icon next to the browser search bar. Then click on the file you want to view and it will open directly on the device.
---
Google Chrome
Step 1:
Begin by navigating to the In Progress page to download the CSV file. Then click 'Download All'.

Step 2:
A green Success window will pop up to let you know its been downloaded. The file can be found at the bottom left corner of the screen.

Step 3:
Click on the upward facing arrow to the right of your downloaded CSV file. Then select 'Always Open Files of This Type'. And thats it!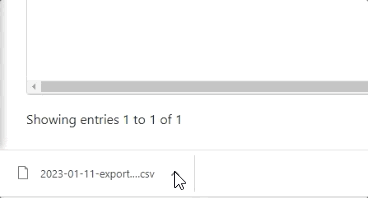 Moving forward, each time a CSV file is selected for download, it will go directly to your devices Download Folder instead of being on the Downloads page in Chrome. You will have to repeat this process for each file format you want to view.
---
Microsoft Edge
There are a couple settings that need to be turned off first in order for Edge to bypass browser viewing. These settings will be applied to all file types moving forward.
Step 1:
When you have your browser open, click the three dot icon at the top right. Select the

option from the menu. On the Settings page, select

from the left side menu. This is where you setup download settings. Unselect the 2nd and 3rd option like you see in the clip below.

Step 2:
Back on the In Progress page, when the 'Download All' button is selected, a pop up window at the top right appears which will allow you to open the file directly within your local application used to view that type of file. It will also be saved to the download folder for the device.

---
And thats it!
Now you know how to view files from Weever directly on your device using various platforms.